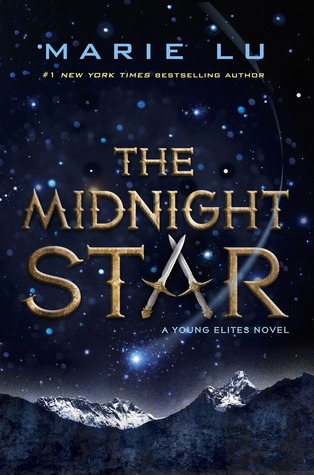 I finished The Midnight Star, the final book in the Young Elites trilogy, a few weeks ago but I didn't get the chance to write up my review of it, so apologies for the delay! As you know, if you read my reviews of the first two books in the series, I loved them and had high expectations for the final book. Thankfully, The Midnight Star managed to completely exceed my expectations! I absolutely loved it. It was such a great ending to a brilliant series – the ending actually made me cry!
The Midnight Star begins months into Adelina's reign. She's gained a reputation as a cruel, remorseless Queen and has successfully conquered the majority of her enemies. She's completely transformed the land – Malfetto's are treated with superiority, whilst those who used to bully them are now treated like second-class citizens. Although she's now the most powerful person in the land, she's struggling more than ever with the voices in her head. The darkness we'd seen glimpses of in the previous books is now completely consuming her, and she feels more alone than ever. Her sister, Violetta, has abandoned her to go and work with the Daggers, so the only person now anchoring her to reality is Magiano. However, when the dark effects of the Young Elites power have on the land begins to show, Adelina is forced to team up with her enemies.
The book was exciting, romantic, sad and funny. Throughout the entire series Adelina has been such a well written, unique character. I was completely rooting for her to find happiness. I also loved the romance between Magiano and Adelina, and the way he stood by her when no one else would. There's a scene between the two of them (in the bath house – if you've read the book, you'll know the one I mean!) that was so cute, and really sold them as a couple to me. I also loved how different Adelina and Violetta's relationship was in this book. Whilst they've always had a difficult relationship, it's even more strained in The Midnight Star. Adelina feels betrayed by Violetta, and Violetta is terrified of and for Adelina. No matter how angry they are towards each other, you can always tell how much they care for each other, which is so nice to read in YA.
There have been a few times where I've loved a series and been completely disappointed by the final few chapters, which certainly wasn't the case with The Midnight Star. The book had such a lovely and original ending, I was seriously impressed.
If you're looking to start a new YA series, I couldn't recommend The Young Elites trilogy enough. All of the books were so exciting, original and completely entertaining that I believe everyone will love them as much as I did.